~Daily monitoring of the world to be realized with 10 satellite-constellation~
Axelspace Holdings Corporation today announces that the company completed its Series C funding round raising approximately JPY 2.58 billion (equivalent to USD 23.8 million). The round sees the allocation of new shares to The Space Frontier Fund, several other venture capitals and corporate investors.
Major Accepting institutions
・The Space Frontier Fund
(Managed by SPARX Innovation for Future Co., Ltd.)
・Japan Co-Invest III Limited Partnership
(Managed by Sumitomo Mitsui Trust Investment Co., Ltd.)
・Japan Post Investment I, ILP
(Managed by Japan Post Investment Corporation)
・31VENTURES – Global Brain – Growth I Joint Project
(Managed by Mitsui Fudosan Co., Ltd. and Global Brain Corporation)
・KYOCERA Corporation
・Mitsubishi UFJ Capital VII, Limited Partnership
(Managed by Mitsubishi UFJ Capital Co., Ltd.)
Axelspace Corporation, a wholly owned subsidiary of Axelspace Holdings Corporation, has been developing a next-generation Earth-observation ・・platform named AxelGlobe having the capability of obtaining images of the whole planet with high frequency. With the funding this time, Axelspace plans to manufacture and launch 5 more optical microsatellites named GRUS in 2023, which will evolve AxelGlobe as the Earth observation platform with a constellation of 10 satellites in total. The completion of 10-satellite constellation will enable us to monitor anywhere on the Earth on a daily basis and will create new business opportunities in wider fields than ever before.
"We are confident that 2021 will become the most exciting year for Axelspace since we inaugurated AxelGlobe project 6 years ago. After the successful launch of 4 GRUS satellites on March 22, we have been smoothly preparing for the start of official service with 5 satellites. The operation of a satellite constellation is the very first achievement in Japan and we are very proud that we have added a new page to the history of Japanese space activities. Through the close of Series C this time, we have successfully secured the funds to add 5 more GRUS satellites to our AxelGlobe constellation in 2023, which is a big step toward the completion of 10-satellite constellation allowing the daily monitoring of any location in the world. We will accelerate the collaboration and partnership with various players in a wide range of industries, positioning 2021 as the first year to disseminate satellite data to the world." commented Yuya Nakamura, the President and CEO of Axelspace Holdings Corporation.
"Mitsui Fudosan has been following the growth of Axelspace for a long time, from supporting its office relocation and expansion in 2015 to joining the company's Series B financing as a lead investor in 2018. In the concept of AxelGlobe to monitor the whole Earth with high frequency we see a big potential to create a new industry beyond our core business of community development. It has become even more realistic after the successful launch of 4 GRUS satellites in March this year, and we look forward to the completion of 10-satellite constellation in 2023 and further opportunities for collaboration in various aspects through the Series C round of investment." commented Mr. Shinji Kato, a Project Manager at Business Development Group, Venture Co-creation Department of Mitsui Fudosan Co., Ltd., one of the accepting institutions this time and the continuing investor from the Series B financing in 2018.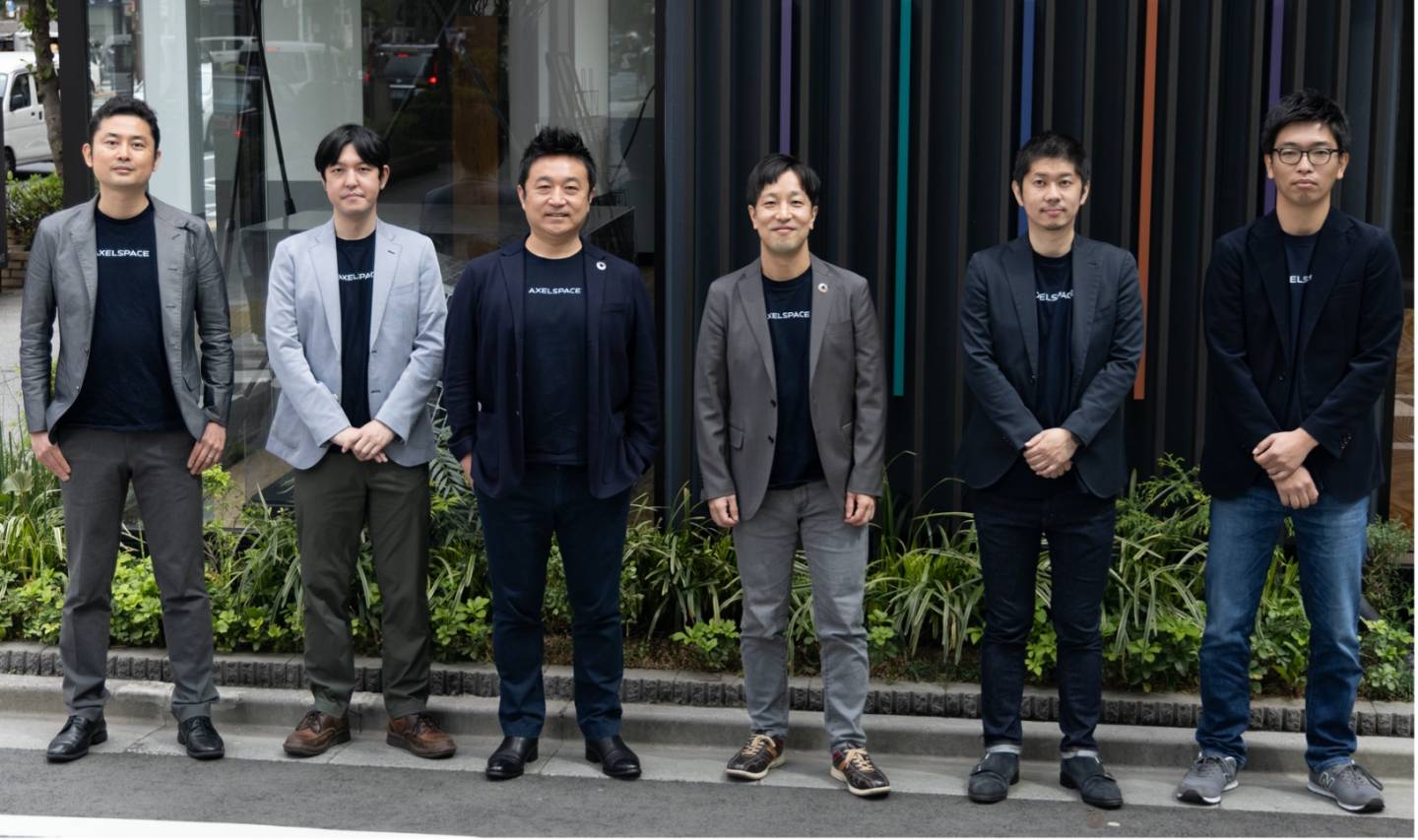 Axelspace Management Team
Left to right: Naoki Miyashita (CTO), Yoshihiro Ota (CSO; Chief Strategy Officer),
Yasunori Yamazaki (CBO; Chief Brand Officer), Yuya Nakamura (CEO),
Yusuke Nakanishi (CPO), Hiroki Aomoto (CFO&CHRO; Chief Human Resources Officer)
Only major titles are listed.
About AxelGlobe
AxelGlobe is a next-generation Earth observation platform which Axelspace Corporation has been constructing. By launching a number of 100kg–class microsatellites for optical Earth observation named GRUS into orbit, AxelGlobe will enable us to monitor anywhere on the Earth every day. GRUS is smaller than conventional Earth observation satellites, yet it can take high-quality optical images with a ground resolution of 2.5 meters (high enough to identify a car on the ground). By taking images of the world every day, a vast amount of data will be accumulated. Then we can provide our clients with various business insights by analyzing data and extracting information based on their needs.
For example, applications for precision agriculture, such as grasping the crop growth and estimating the best time to harvest, are well known. Interestingly, new applications are emerging in some developing countries – local banks use yield prediction data to make lending decisions for farmers, and insurance companies use such data to calculate the amount of loss in the case of crop failure.
Besides, the utilization in the field of environment and sustainability is also rapidly growing along with an increasing interest in SDGs in the society and the development of ESG investment. For example, they use satellite imagery data to prove their business activities do not have negative impact on the surrounding environment, to confirm there is no environmental destruction or illegal activities associated with their procurement of raw materials, or to appeal positive results of their CSR activities such as tree planting.
We believe that such new applications will further increase in the near future along with the development of AxelGlobe project.
Establishment of AxelGlobe Business Division
Following the successful launch of 4 GRUS satellites on March 22, 2021, Axelspace plans to start the service with 5-satellite constellation in June, after the public announcement of the first light of 4 satellites on May 7. It is the first time in Japan that a satellite constellation becomes operational. Having clear prospects of completing 10-satellite constellation through the financing this time, Axelspace newly established AxelGlobe Business Division and strengthened its business operation structure to promote satellite data utilization in the society. AxelGlobe Business Division will be headed by Yusuke Nakanishi, Director of Axelspace and CPO (Chief Product Officer). His career summary is as follows:
Director of AxelGlobe Business Division and CPO (Chief Product Officer): Yusuke Nakanishi
Yusuke completed his bachelor's degree in business administration at Hitotsubashi University. He started his career at AGC Corporation (former Asahi Glass Co., Ltd.) experiencing sales and planning. After serving as a director at a healthcare startup and as a consultant at Boston Consulting Group, he joined Axelspace in 2020 and was appointed as CPO and Director of AxelGlobe Business Division in April 2021.