~Final step in starting AxelGlobe service with 5-satellite constellation~
Axelspace Corporation releases today the first light images of four satellites (GRUS-1B, 1C, 1D, 1E) launched on March 22 this year. These satellites were developed for the company's proprietary next-generation Earth observation platform named AxelGlobe. We have been conducting in-orbit checkups since the launch, and everything is going well at the moment, including the optical system onboard.
First Light Images
Below are the first light images of GRUS-1B, 1C, 1D, 1E. They are created from multispectral images through the resampling process for publication. Geometric and radiometric corrections are not applied to these images, and the specifications differ from actual products available in AxelGlobe service.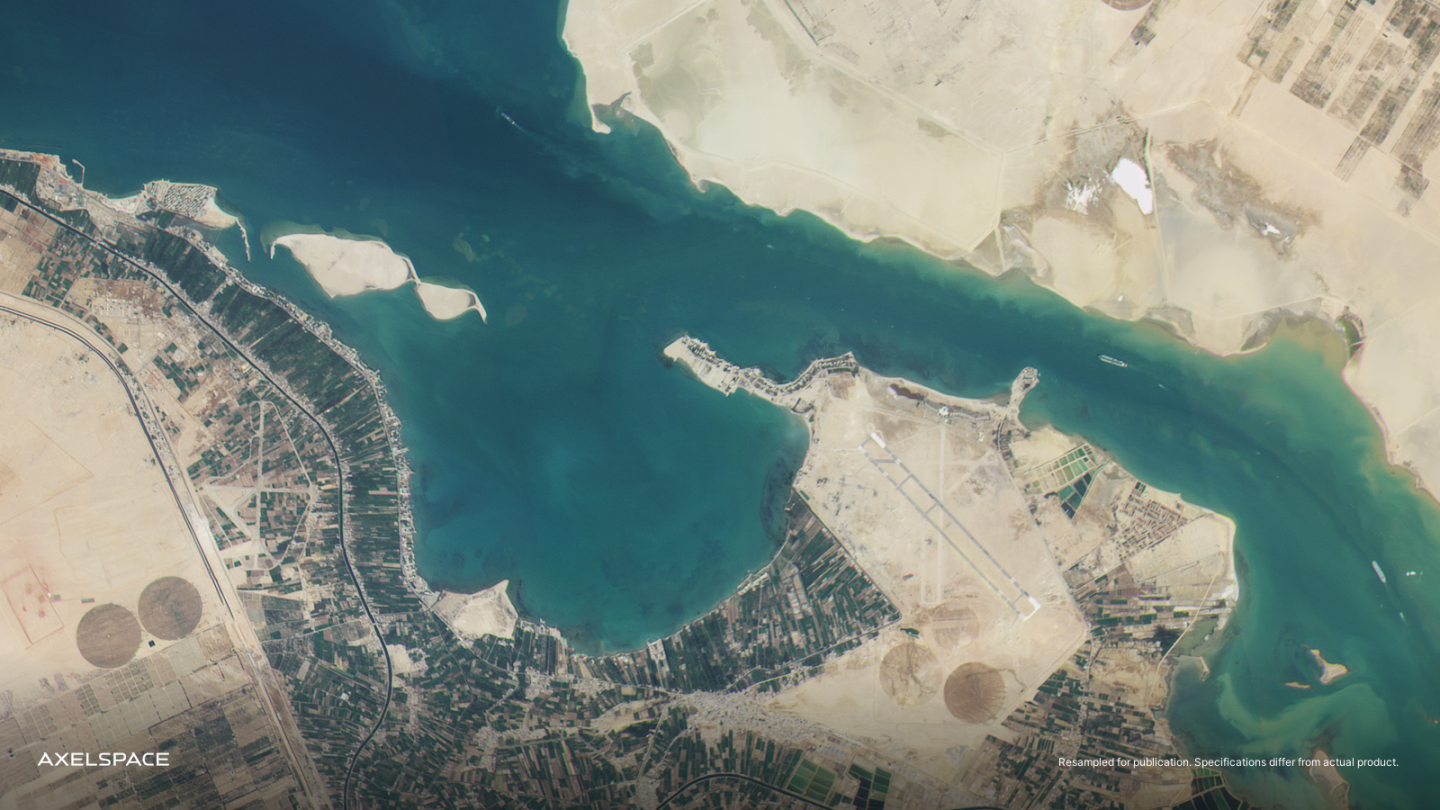 Figure 1: Image captured by GRUS-1B
Capture location: Suez Canal, Egypt
Capture time: 08:26 am on April 29, 2021 (UTC)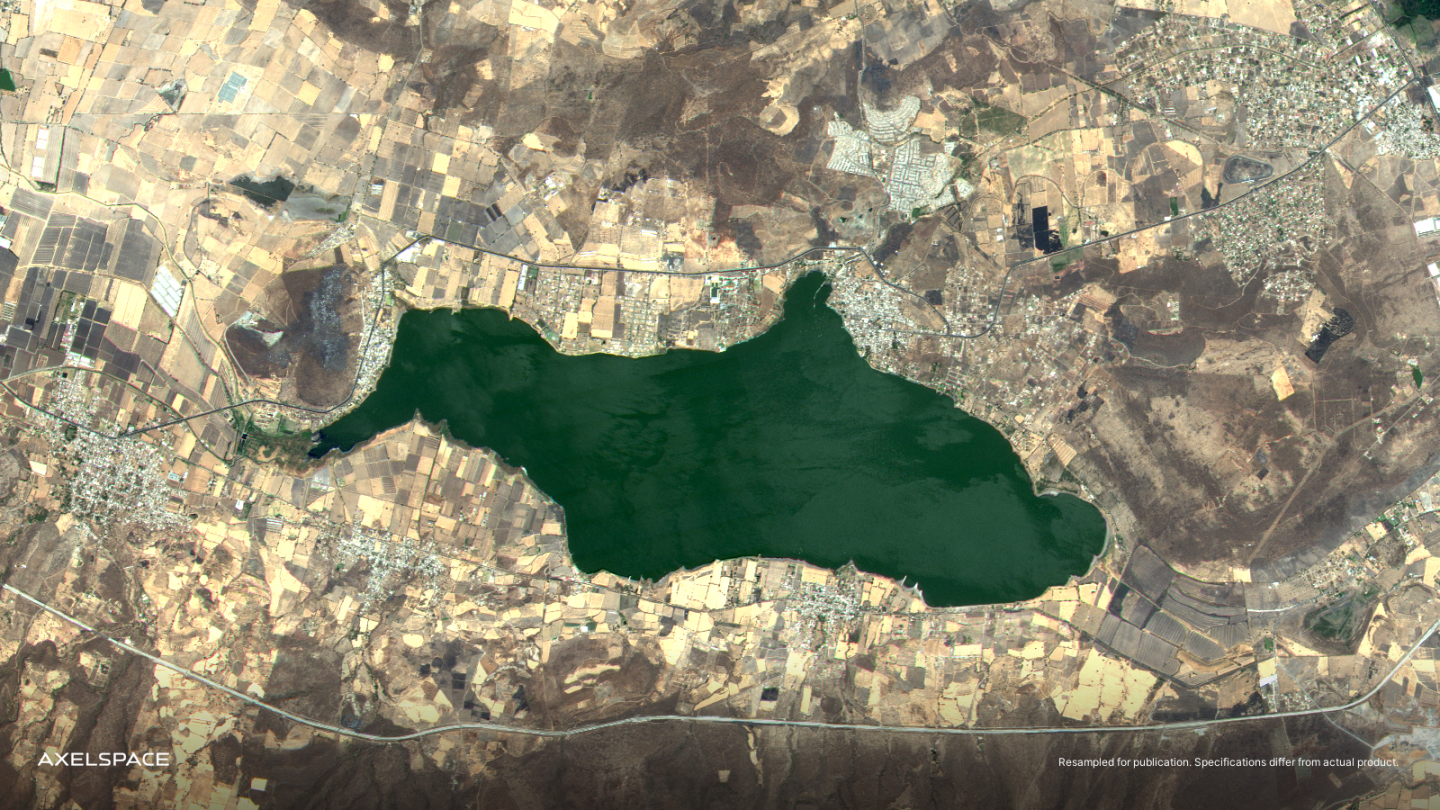 Figure 2: Image captured by GRUS-1C
Capture location: Laguna de Cajititlán, Jalisco, Mexico
Capture time: 05:39 pm on April 28, 2021 (UTC)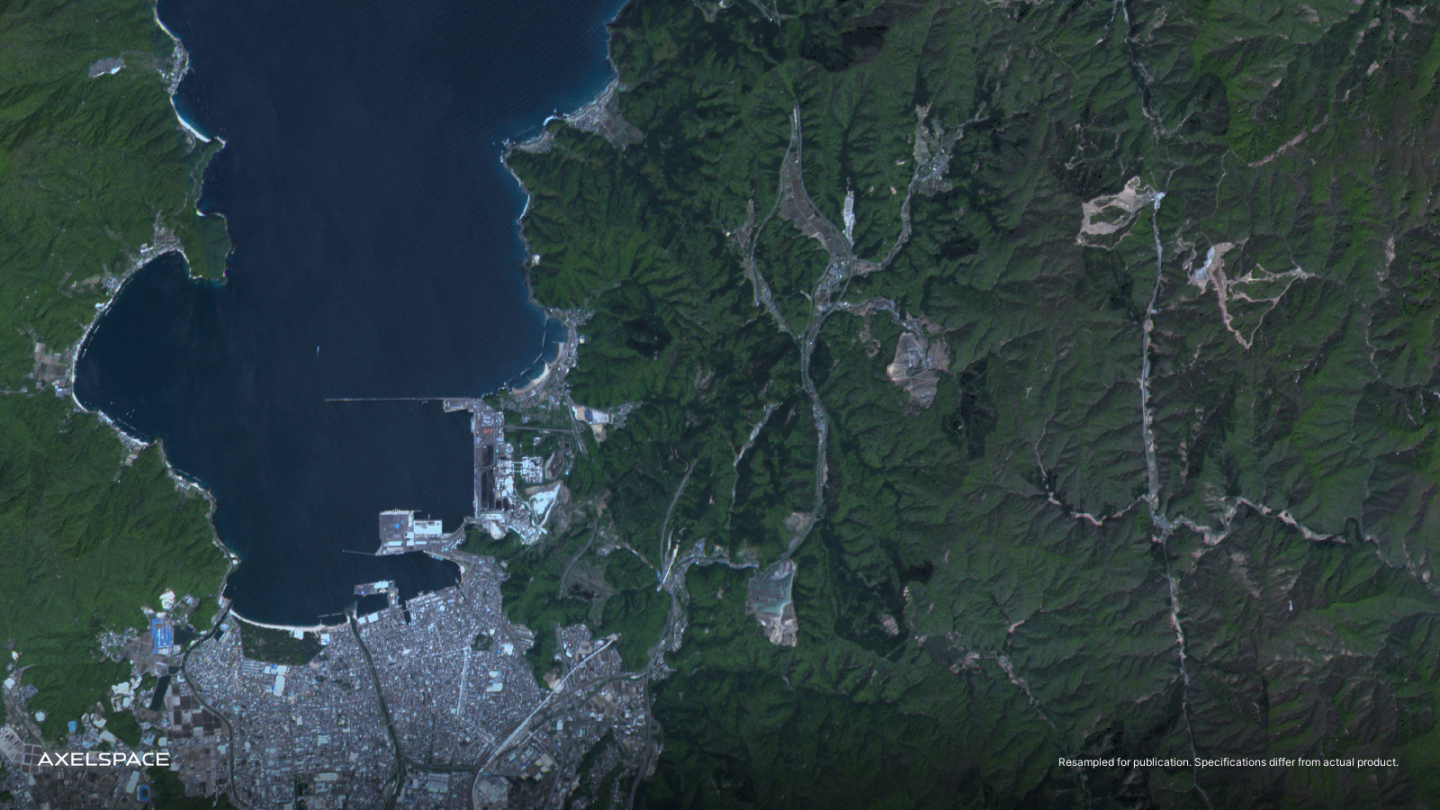 Figure 3: Image captured by GRUS-1D (Fukui Prefectural Satellite "Suisen")
Capture location: Tsuruga Bay, Fukui, Japan
Capture time: 01:28 am on April 26, 2021 (UTC)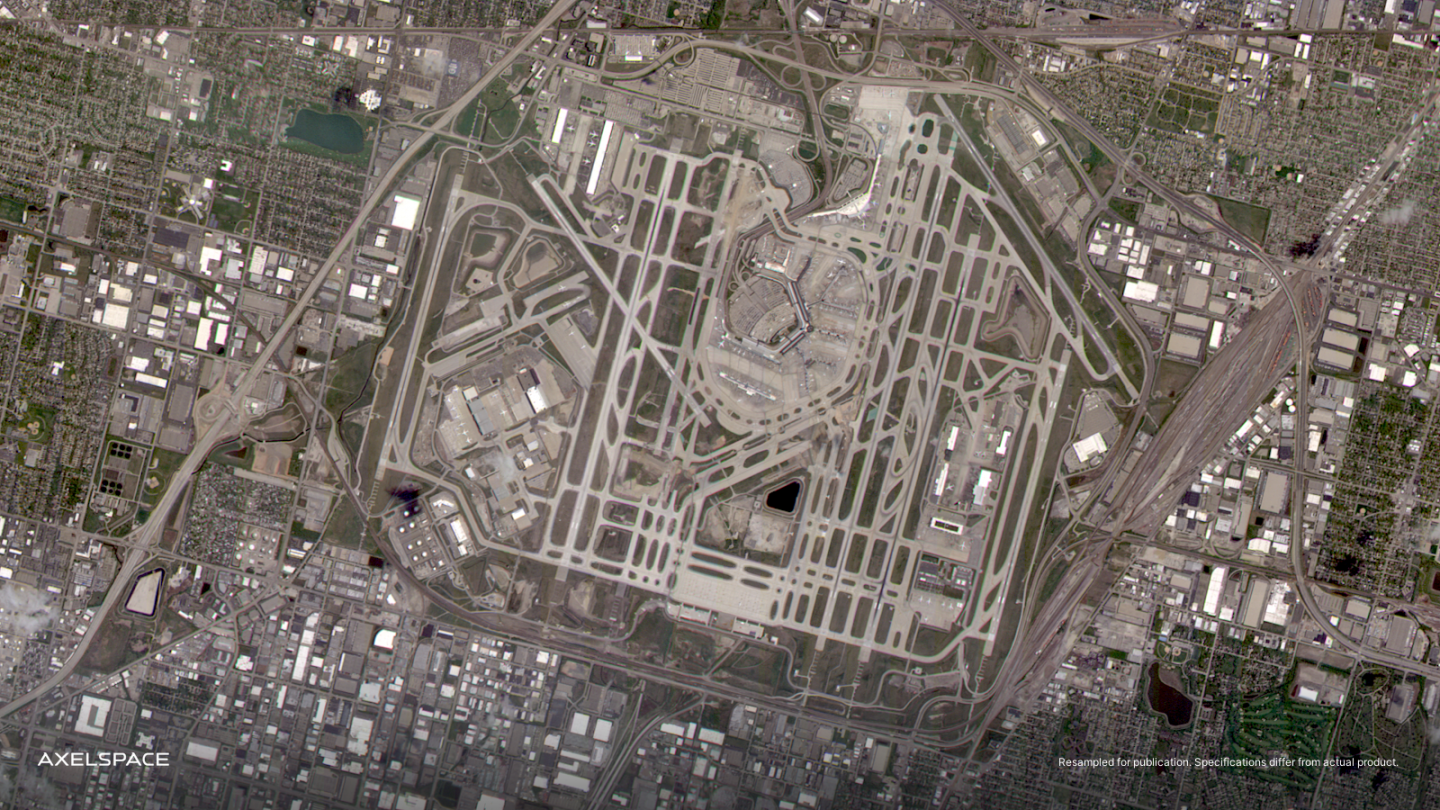 Figure 4: Image captured by GRUS-1E
Capture location: Chicago O'Hare International Airport, Illinois, USA
Capture time: 04:22 pm on May 2, 2021 (UTC
Comparison of images of the same place captured by two GRUS satellites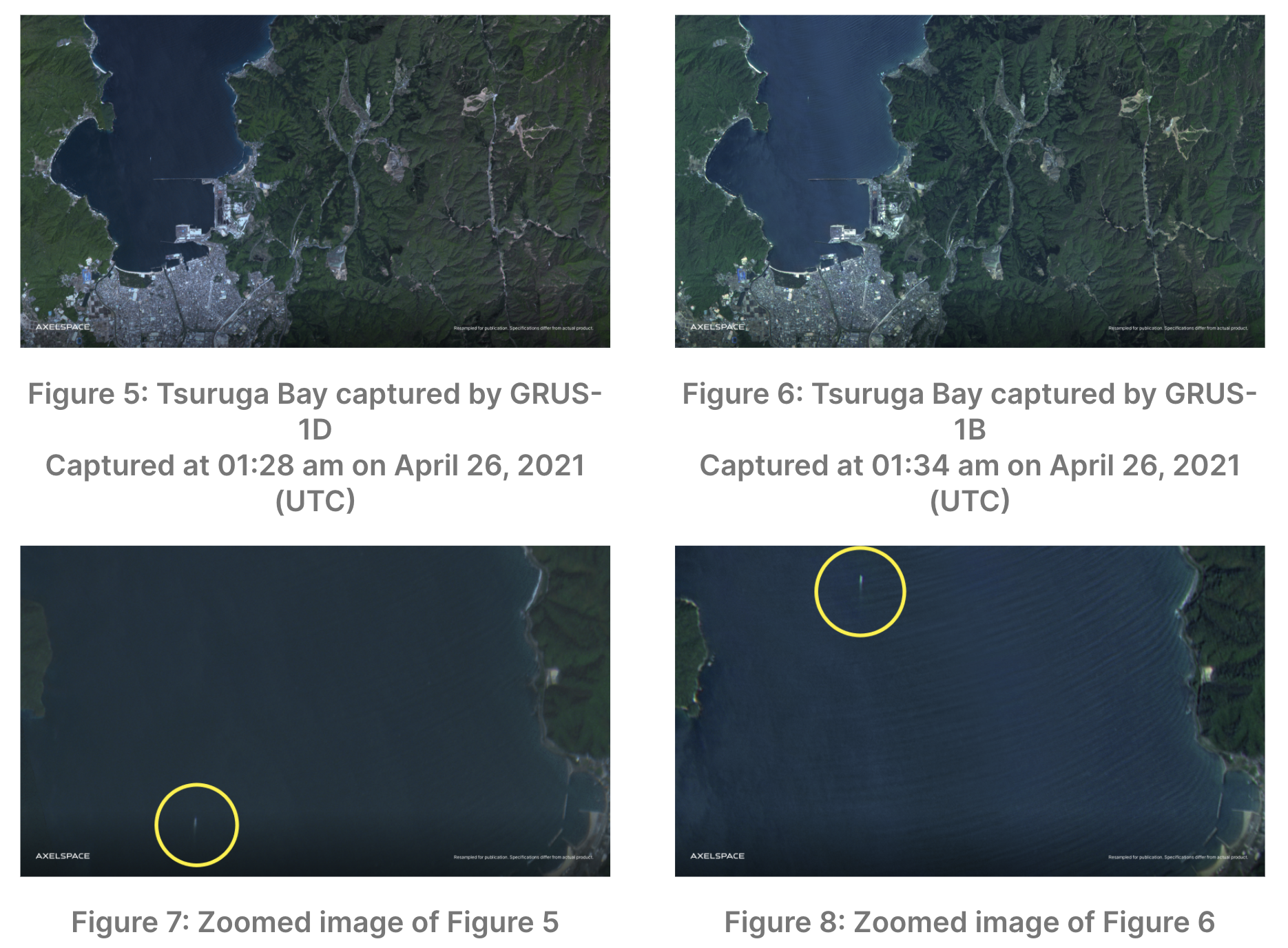 GRUS-1D and GRUS-1B captured the same place, and these two images are shown in Figure 5 and 6. There is a time gap of approximately six minutes only between two captures, as the images were taken while two satellites were flying close to each other. By comparing two images shown in Figure 7 and 8, which are zoomed from Figure 5 and 6 respectively, we can tell the difference of capture time from the movement of a boat in the bay.
We will not be able to capture images of the same location with such a short time difference anymore since we are currently conducting phasing operation where we move each satellite to the respectively designated position in orbit.
Launch of AxelGlobe service with 5-satellite constellation
Once we complete the phasing operation, Axelspace will officially start the service with 5-satellite constellation (GRUS-1B, 1C, 1D, 1E plus GRUS-1A, launched in December 2018 and already in service). This will increase the monitoring frequency in the mid-latitude region including Japan from every two weeks to every couple of days, enabling full-scale utilization for a wider range of applications than ever before.
About AxelGlobe
AxelGlobe is a next-generation Earth observation platform which Axelspace Corporation has been constructing. By launching a number of 100kg-class microsatellites for optical Earth observation named GRUS into orbit, AxelGlobe will enable us to monitor anywhere on the Earth every day. GRUS is smaller than conventional Earth observation satellites, yet it can take high-quality optical images with a ground resolution of 2.5 meters (high enough to identify a car on the ground). By taking images of the world every day, a vast amount of data will be accumulated. Then we can provide our clients with various business insights by analyzing data and extracting information based on their needs.
For example, applications for precision agriculture, such as grasping the crop growth and estimating the best time to harvest, are well known. Interestingly, new applications are emerging in some developing countries – local banks use yield prediction data to make lending decisions for farmers, and insurance companies use such data to calculate the amount of loss in the case of crop failure.
Besides, the utilization in the field of environment and sustainability is also rapidly growing along with an increasing interest in SDGs in the society and the development of ESG investment. For example, they use satellite imagery data to prove their business activities do not have negative impact on the surrounding environment, to confirm there is no environmental destruction or illegal activities associated with their procurement of raw materials, or to appeal positive results of their CSR activities such as tree planting.
We believe that such new applications will further increase in the near future along with the development of AxelGlobe project.