〜Promoting the Use of Earth Observation Data for SDG-Related Projects in Central and South America〜
Axelspace (Head office: Chuo-ku, Tokyo; President and CEO: Yuya Nakamura) is pleased to announce that our microsatellite constellation-based Earth observation platform, "AxelGlobe," has been selected for the "Open Innovation Challenge TSUBASA (Transformational Start Ups' Business Acceleration for the SDGs Agenda)" support program hosted by the Japan International Cooperation Agency (JICA) and IDB Lab, the innovation lab of the Inter-American Development Bank (IDB) Group.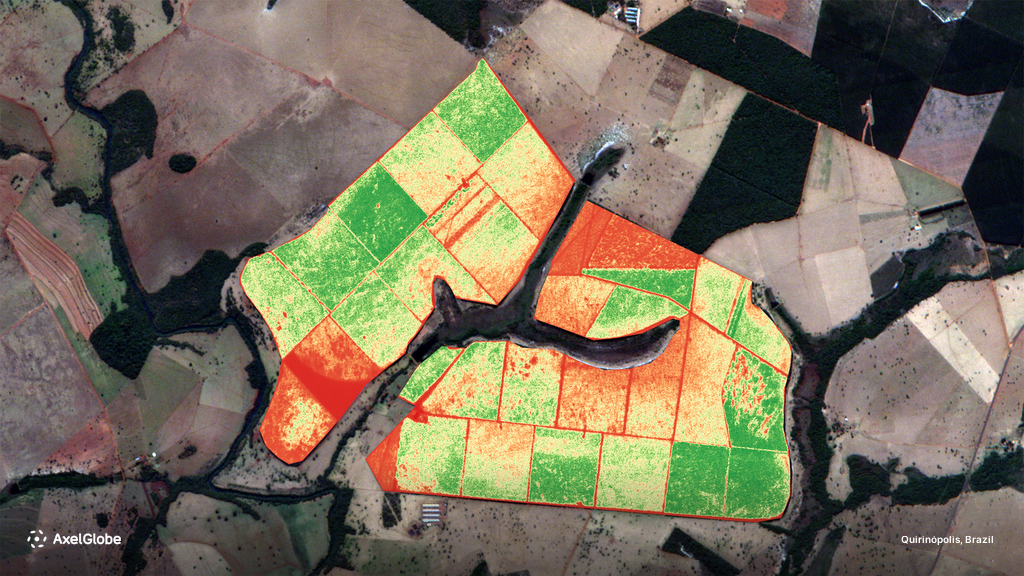 Axelspace's Activities and Future Endeavors in Central/South America and the Caribbean Region
In Central/South America and the Caribbean regions, satellite data is actively utilized in SDG-related areas such as agriculture, forest management, and environmental monitoring. This aligns with our firm's focus areas, and we have deployed a manager in Sao Paulo, Brazil in an effort to develop our business in these regions.
We have been supporting the Open Data Cube program of the Brazilian National Institute for Space Research (INPE) since 2022, an open platform for satellite images which is being developed in many countries in recent years. The INPE uses satellite images to observe and analyze the vegetation of tropical rainforests and savanna areas for vegetation protection of these regions. There is an urgent need to develop satellite data sets to improve quality, reduce costs, and increase the speed of observation and analysis.
To address this need, we provide GRUS satellite images to INPE's Open Data Cube platform through "AxelGlobe" and support the promotion of centralized data development. Through the centralization of data, we aim to increase the efficiency and reliability of various analyses using satellite data, and also to facilitate INPE and other organizations and partners in the Central/South America and Caribbean regions to utilize satellite data to solve various social issues, especially the SDGs.
With our selection for "Open Innovation Challenge TSUBASA," we will contribute to Central/South America and the Caribbean region achieving their SDG goals through accelerating our partnerships in new fields in this area, including our efforts with IPNE, the development of satellite data resources, and the development of services.
*About Open Innovation Challenge TSUBASA
 This is a business competition to select companies that will receive support from the "Transformational Start Ups' Business Acceleration for the SDGs Agenda (TSUBASA)" program, a collaborative initiative of the Japan International Cooperation Agency (JICA) and IDB Lab, the innovation lab of the Inter-American Development Bank (IDB) Group.
 The "TSUBASA" program aims to tackle various issues such as deforestation, environmental conservation, and water resource management by supporting Japanese startups with a desire to expand their businesses in the Central/South America and Caribbean regions. Eight startups were selected for the program in FY2021, and we were chosen as one of the selected companies for FY2022.
https://tsubasa-jica.com/
Earth Observation Platform "AxelGlobe" Overview
AxelGlobe is our Earth observation platform based on Japan's first microsatellite constellation, a symbol of our company's vision of "Space Within Your Reach" and our aim to promote the utilization of space as infrastructure. We provide satellite data of desired areas using the Earth observation microsatellite constellation developed and manufactured by our very own firm. Our satellite data is utilized for applications such as smart agriculture, disaster response, contribution to SDGs, and environmental monitoring for ESG compliance, among others.
AxelGlobe website https://www.axelglobe.com/ja/
Online Catalog https://www.axelspace.com/assets/pdf/solution/ag_catalog_ja.pdf
About Axelspace Holdings Corporation
Location: Tokyo, Japan
President and CEO: Yuya Nakamura
Capital: 8,050 million yen (including capital reserve)
Main business activities: Earth observation business using microsatellites, the proposal of solutions utilizing microsatellites, design, and manufacture of microsatellites and related components, launch arrangements for microsatellites, and operational support and commissioning.
https://www.axelspace.com/
Contact Information for Media
Axelspace Corporation
PR Unit, Corporate Strategy Division
pr@axelspace.com