Axelspace Corporation (Head Office: Chuo-ku, Tokyo; CEO: Yuya Nakamura), a pioneer in microsatellites, announces its new management structure as of June 1, 2023.
Background of Transition to New Management Structure
Since our establishment in 2008 by a team of three members, our company has built a solid reputation by engaging in the development, manufacturing, and operation of nine microsatellites, including the world's first Arctic sea ice monitoring satellite WNISAT-1, and RAPIS-1, the first project entrusted by the Japan Aerospace Exploration Agency (JAXA) to a space startup from development to operation. Our company's pioneering project, the "AxelGlobe" commercial Earth observation constellation business, the first of its kind in Japan, has expanded to a constellation of five microsatellites with the launch of four microsatellites in 2021. We are advancing its utilization in collaboration with over 80 partner companies worldwide, and have provided Earth observation data to hundreds of client companies for various applications. In order to further accelerate the societal implementation of space utilization services using microsatellites, we are exploring the possibility of going public and have overhauled our management structure, effective from our new fiscal year starting on June 1, 2023. Under the new structure, we will focus on driving DX to enable real-time visualization of conditions to allow for informed business decision-making, strengthen our HR functions to support the further expansion of our organization from our current count of over 130 members and to prepare for future overseas expansion, enact proactive security measures that enhance the safety and value of our operations, as well as foster the rapid growth of both AxelGlobe and AxelLiner businesses.
Our company will celebrate its 15th anniversary in August of this year. Under the leadership of the new management team, we will continue to work as a unified team to pursue our vision of "Space within Your Reach."
About the New Management Structure
Axelspace Holdings

Axelspace Corporation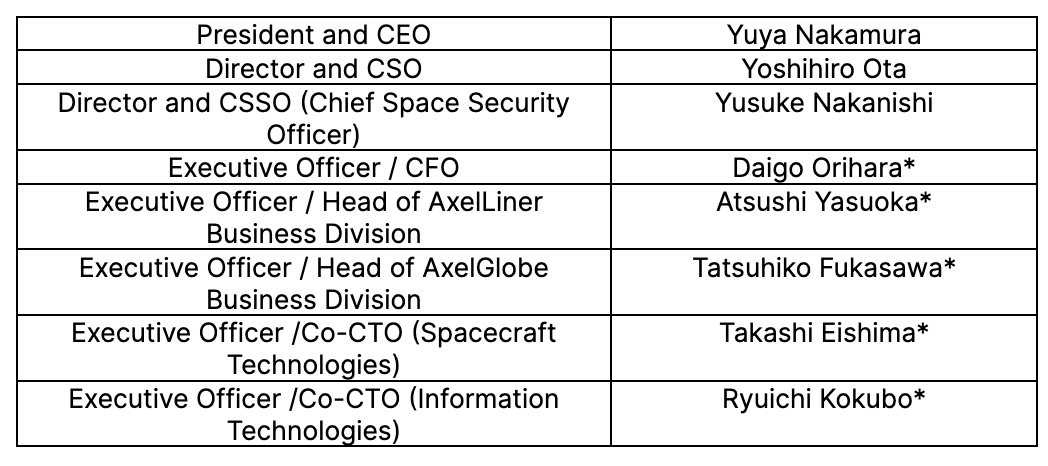 *Newly appointed members of the management team are indicated with an asterisk (*) next to their names and their brief profiles are provided in the latter part of this press release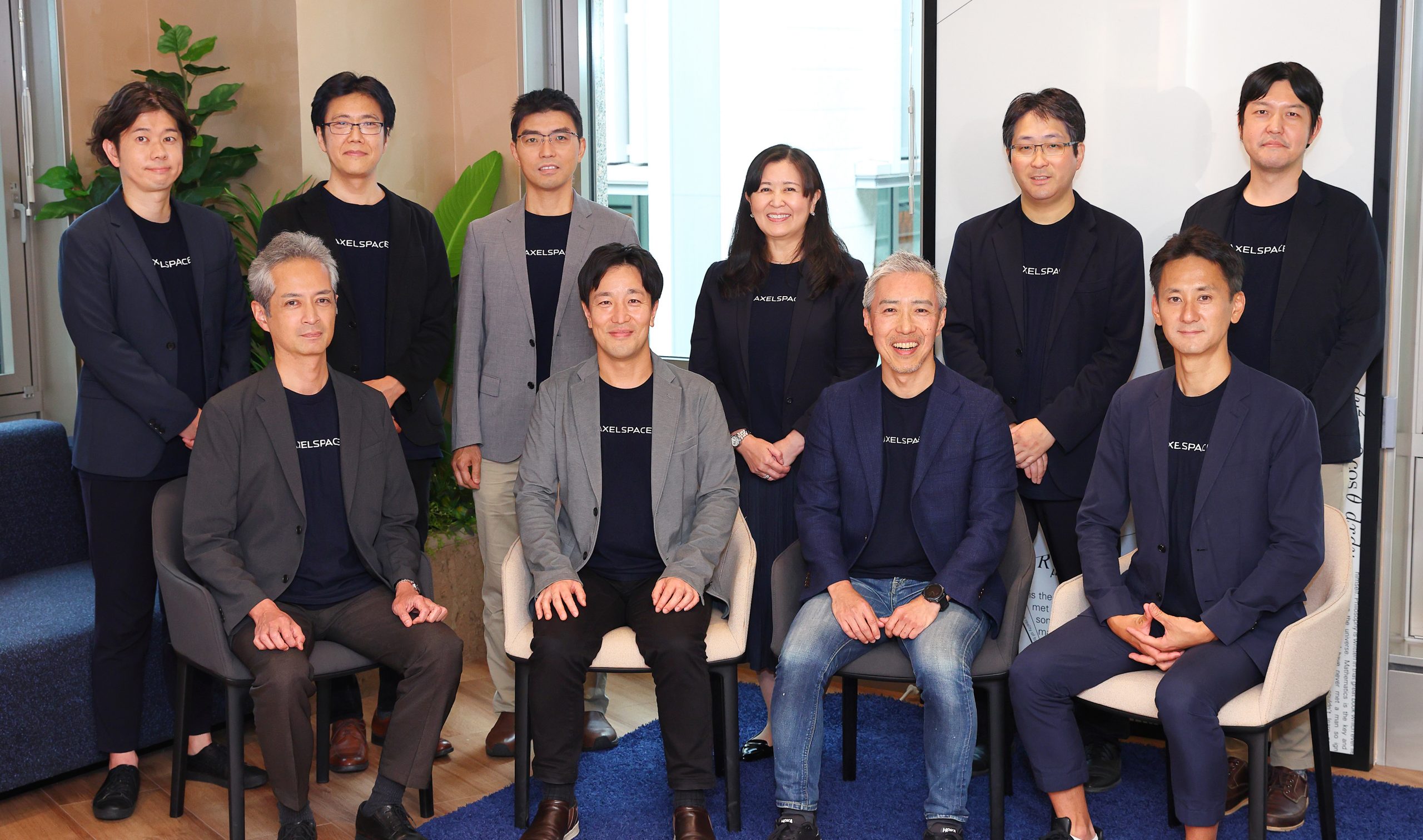 Furthermore, co-founder Naoki Miyashita will now be working as a researcher in the Intelligent Space Systems Laboratory of the Department of Aeronautics and Astronautics at the University of Tokyo, the same laboratory co-founders Yuya Nakamura and Takeshi Eishima were affiliated with previously, to conduct research on microsatellite architecture, etc. suitable for mass production. Miyashita will continue to be deeply involved in our satellite business as a technical advisor.
Introduction of New Members of the Management Team
Daigo Orihara
Executive officer / CFO
After working at Sanwa Bank and in product management at a telecommunications equipment manufacturer, he was engaged in financial advisory such as M&A and fundraising at Investment Banking Division at UBS Securities Japan Global Banking. Later, he was engaged in business strategy planning, hands-on management support, overseas projects, and domestic and international investment at Industrial Growth Platform, Inc. He then joined Innophys, a university-based startup involved in the development of exoskeletons, where he served as CFO, leading fundraising efforts and developing mid-term business plans. After serving as CEO of the company, he joined Axelspace.
He received his MBA from the University of Michigan, Ross School of Business.
Makiko Hamada
Executive Officer / CHRO
After graduating from the Faculty of Environment and Information Studies at Keio University, she worked for Benesse Corporation and CyberAgent, Inc., where she switched to human resources(HR). She created the HR infrastructure at MicroAd, a CyberAgent group company, and supported business expansion from the administrative side. After that, she led the renewal of the HR system as the head of the HR department at Business Breakthrough Inc. After serving as HR manager in several companies such as an IT startup, she joined Axelspace in September 2022.
Hiroshi Sasaki
Executive Officer / CISO
He worked as a developer of industrial control systems in a domestic manufacturing company for 14 years. He transitioned to the security industry, focusing on commercializing industrial cybersecurity, and actively engaging in activities such as giving lectures and writing articles domestically and internationally to raise awareness and provide solution proposals. Since 2016, he has served as a part-time advisor for the Ministry of Economy, Trade and Industry, and since 2022, as a visiting associate professor at the Manufacturing and Innovation DX Laboratory at the Nagoya Institute of Technology. He is a CISSP certification holder. He has been contracted to provide security operations at Axelspace since December 2021.
Takashi Eishima
Executive Officer/Co-CTO(Spacecraft Technologies)
He was involved in developing the world's first CubeSat at the University of Tokyo Graduate School. After completing his doctoral degree at Tokyo University in 2006, he worked as a project researcher at the University of Tokyo. He joined Axelspace in 2008 as a co-founder and has consistently led the company in technical aspects, including technology development and satellite project management. As Senior Fellow and Senior Engineering Unit Leader in the Engineering Department, he has been formulating technology development roadmaps and engineer talent development plans. As of June 2023, he holds the position of Co-CTO, responsible for spacecraft technologies.
Ryuichi Kokubo
Executive Officer/Co-CTO(Information Technologies)
After completing his Master's degree at the Graduate School of Frontier Sciences, University of Tokyo, in 2003, he worked at NTT IT Corporation, where he was involved in the development and provision of web conferencing software and services. He joined Axelspace in October 2018 and has been involved in the automated operation of the GRUS satellite constellation and the development of operational systems for that purpose. Since April 2021, he has also been the Head of the Digital Governance Group. As of June 2023, he was appointed Co-CTO, responsible for Information Technologies.
Atsushi Yasuoka
Executive Officer / Head of AxelLiner Business Division
After graduating from the Department of Electrical Engineering at Shibaura Institute of Technology, he joined OMRON Corporation in 1993. He worked in the product engineering, design, and marketing departments. He joined OPTEX CO., LTD. in 2005 and ASCO Japan Co., Ltd. (a wholly-owned subsidiary of Emerson in the United States) in 2015. He joined Axelspace in September 2022 and was appointed the Head of the Engineering Division in December 2022.
Tatsuhiko Fukasawa
Executive Officer / Head of AxelGlobe Business Division
After graduating from Seijo University, he joined Macnica Inc. After serving in managerial positions in the sales and overseas procurement divisions, he moved to a semiconductor startup in the United States and participated in its management as the APAC regional manager. He led the setup of a distributor network, the launch of the business, and led a buyout by a major semiconductor manufacturer. Afterward, he launched the domestic operations of an overseas optical satellite startup and oversaw organizational development and operations. He joined Axelspace in November 2022.
Axelspace company information
Location: Tokyo, Japan
President and CEO: Yuya Nakamura
Capital: 8,050 million yen (including capital reserve)
Main business activities: Earth observation business using microsatellites, the proposal of solutions utilizing microsatellites, design, and manufacture of microsatellites and related components, launch arrangements for microsatellites, and operational support and commissioning.
Contact Information for Media
Axelspace Holdings
PR Unit, Communication Promotion Division
pr@axelspace.com