AXELSPACE Corporation is pleased to announce that our CEO Yuya Nakamura received "Minister of Economy, Trade and Industry Award" at the 22nd JAPAN VENTURE AWARD. The Japan Venture Award is organized by the Organization for Small and Medium Enterprises and Regional Innovation(SME Support), Japan.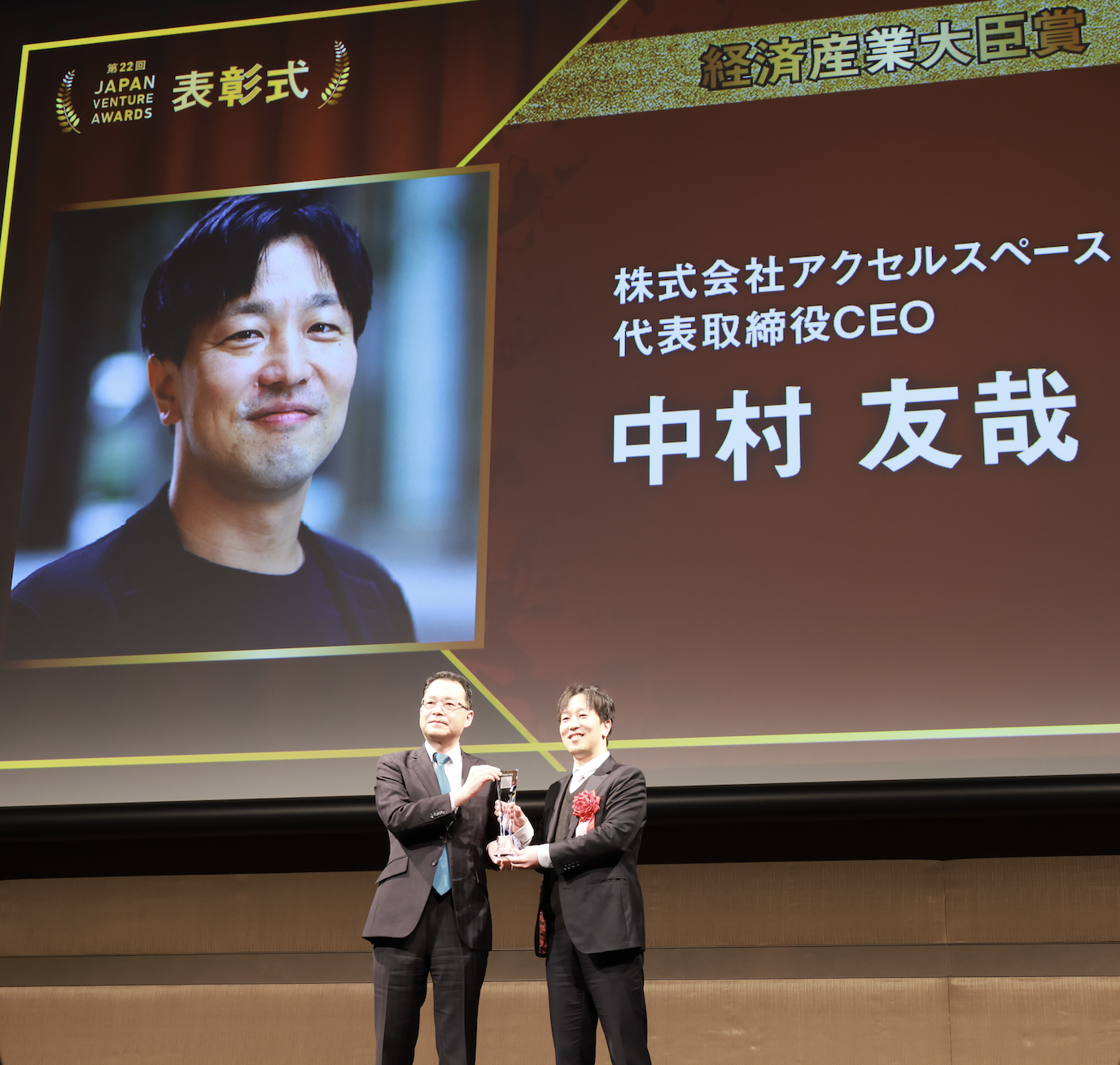 As a front runner in the Japanese micro satellite industry, AXELSPACE has been leading the industry in utilizing space both through hardware and services, including the world's first commercial nano-meteologicalsatellite "WNISAT-1″ and the earth observation web platform"AxelGlobe". We have a clean room in our office in Nihonbashi, Tokyo, where we actually develop and manufacture our satellites.
We believe our strength lies in the fact that excellent engineers and other talented people have been working at Axelspace, as well as in our accumulated technical know-how.Since we launched WNISAT-1 owned by Weathernews in 2013, we have developed and manufactured 9 satellites, all of them have been successfully launched and are in operation.
Also, We are proud that we have been leading the space business industry as a pioneer of micro-satellite technology, such as "AxelLiner", the versatile satellite system and one-stop service for satellites. We will keep working to realize our vision "Space within your reach".
Yuya Nakamura, President and CEO, AXELSPACE Corporation
Born in 1979 in Mie Prefecture. Doctoral program in Aerospace Engineering, Graduate School of Engineering at theUniversity of Tokyo. While a student, he was involved in the development of the palm-sized "CubeSat", which was successfully launched and operated in orbit for the first time in the world in 2003. After that, he was involved in a total of three nano-satellite projects while conducting his research. After graduation, he worked as a specially appointed researcher in the same department, In 2008, he founded Axelspace and became its president and CEO. He has served as a subcommittee member of the Space Policy Committee from 2015.
Japan Venture Awards Overview
The Japan Venture Awards is an award program honoring highly motivated entrpreneur with innovative and high-growth potential businesses, and contribution to solving social issues social issues. Since 2000, 328 Start-up executives have won the award and they have grown into leaders who sustain Japan.
For more information about Japan Venture Awards, please visit the official website below.
https://j-venture.smrj.go.jp/entry/summary.html
Axelspace Corporation
Axelspace is providing solutions with its unique microsatellite technology. Their main business activities are Earth Observation Platform "AxelGlobe" and one-stop service of your own micro-satellites "AxelLiner". They offer Earth observation solutions, proposal of solutions utilizing microsatellites, design and manufacture of microsatellites and related components, launch arrangements for microsatellites, and operational support and commissioning.
Location: Tokyo, Japan
President and CEO: YUYA NAKAMURA
Founded August 8, 2008
Capital: 7,122 million yen (including capital reserve)
URL: https://www.axelspace.com/
AxelGlobe
https://www.axelglobe.com/en/
AxelLiner
https://www.axelspace.com/ja/solution/
Contact Information for Media
Axelspace Corporation
Corporate Strategy Division, PR Unit Leader
Mayumi Ichikado, Punnapah Saithongin 
E-mail:pr@axelspace.com