~ The collaboration will allow fast delivery of fresh satellite images in emergencies ~
Axelspace Corporation and JX Press Corporation today announce to jointly conduct a demonstration experiment for a next-generation news service using satellite data. As the first step, Axelspace and JX Press deliver satellite images of the large-scale landslide in Japan caused by the heavy rain on July 3, 2021.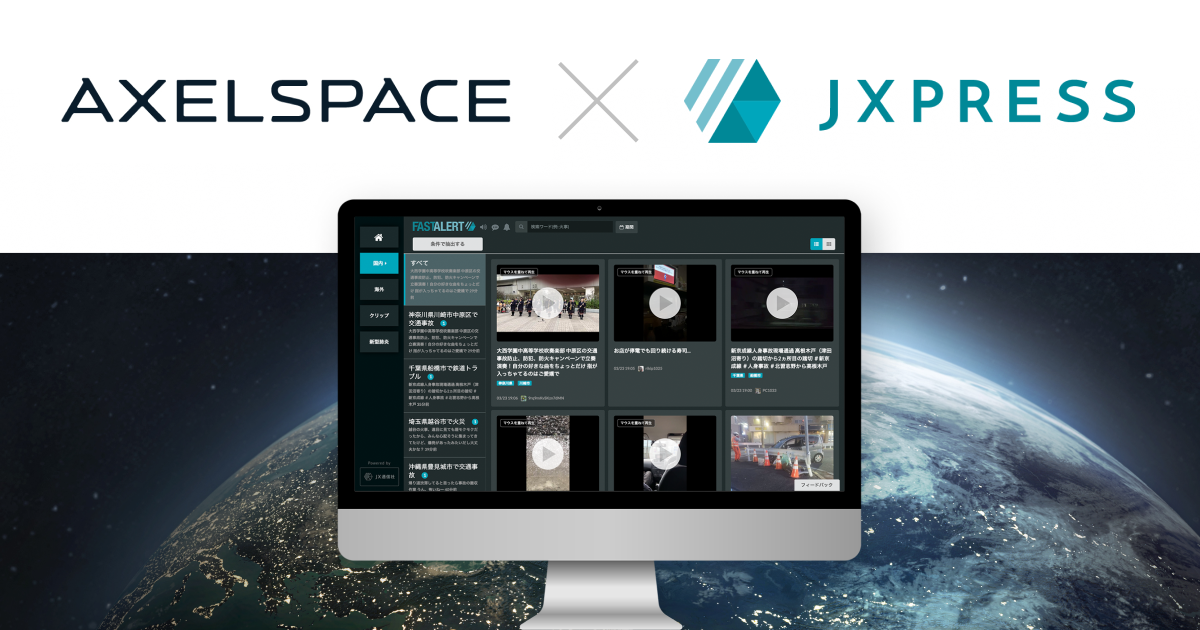 About the collaboration
Axelspace has been constructing a next-generation Earth observation platform named "AxelGlobe". The company successfully launched 4 satellites in March 2021, making it possible to monitor anywhere in the world every 2-3 days. The service officially started on June 10.
JX Press is a virtual news agency to create a more prosperous and safer society through the power of data intelligence. It provides products such as "FASTALERT", which uses artificial intelligence (AI) to detect valuable risk information at ultra-high speed from various types of big data including social media and distribute it to news organizations, government agencies, infrastructure companies etc.
Pursuing the shared mission of creating a safer society by clarifying "what is happening now" using big data, Axelspace and JX Press decided to provide a trial service for FASTALERT customers. In this trial service, JX Press will detect locations of disasters and other incidents in FASTALERT and Axelspace will quickly capture images of the locations in AxelGlobe. This will enable the media, government agencies and infrastructure companies to utilize the images more easily and quickly for news reporting and disaster recovery while keeping track of the emergencies in a multifaceted and wide-ranging manner.
About the trial service
The demonstration is planned to begin in July 2021 and end in January 2022. During this period, Axelspace and JX Press will take images in AxelGlobe at irregular intervals and provide them free of charge to FASTALERT contract customers as well as on JX Press's free bulletin news platform "NewsDigest".
The first images for demonstration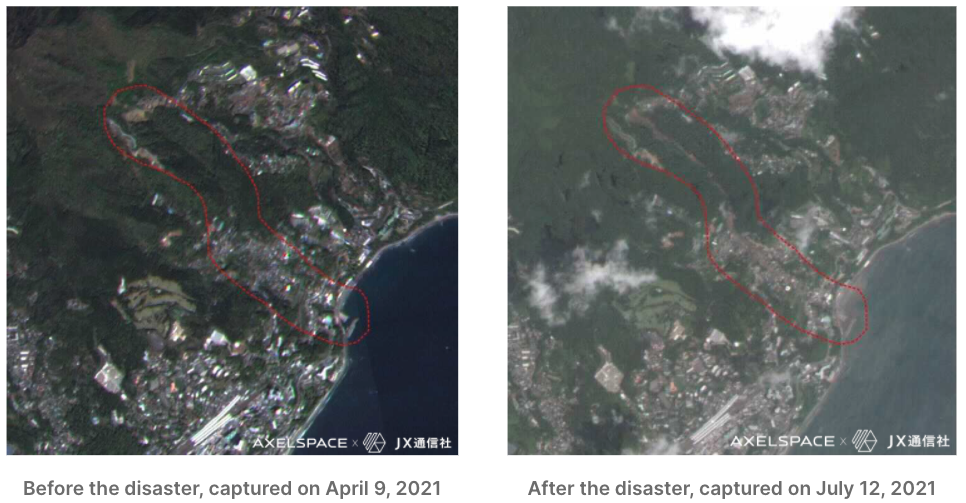 As the first step, Axelspace and JX Press are releasing preliminary satellite images of the scene before and after the large-scale landslide caused by the torrential rains in Atami City, Shizuoka Prefecture, on July 3, 2021.
Due to the severity of the landslide, it was difficult for the government and local governments as well as the media to conduct on-site investigations on the day of the disaster. FASTALERT, however, immediately detected the disaster related videos shared by residents on social media and provided them to the media. The videos were used for a long time as clues to get the situation.
Through this collaboration, Axelspace will contribute to clarifying the full extent of the damage more quickly by taking images and providing them to JX Press right after such large-scale disasters.
The trial image products will be provided free of charge to the media by JX Press for press use only. For details, please contact the persons in charge shown at the bottom.
ABOUT JX PRESS
Head office location:
Hitotsubashi Building 8F, 2-6-3 Hitotsubashi,
Chiyoda-ku, Tokyo 101-0003, Japan
Representative: Katsuhiro Yoneshige
Establishment: January 10, 2008
Capital stock: JPY 100,000,000
Main business content:
Data Intelligence Platform (FASTALERT / NewsDigest)
Poll (IVR-RDD method)
URL: https://jxpress.net/
Shizuka Izumi | Corporate Division PR, JX Press | info@jxpress.net