Axelspace announces to start "Research and Development of Radio-Optical Hybrid Communication Technology for Beyond 5G Next-Generation Small Satellite Constellations" with the University of Tokyo, Tokyo Institute of Technology and Kiyohara Optics Inc. The project is planned and funded by the National Institute of Information and Communications Technology (NICT).
In this R&D project, the four organizations will develop an optical communication device and a Ka-band transmitter with very high-speed communication capability, which are key components required for a next-generation small satellite constellation.
In recent years, the public and private sectors, mainly in the United States, have been working to build a constellation of communication satellites, consisting of hundreds to thousands of micro-satellites. As one key piece of technology, building a communication network using optical inter-satellite communications in the Low Earth Orbit (LEO) has been drawing attention. It is expected not only to supplement areas with inadequate terrestrial communication infrastructure, but also to be used in areas where communication services have not been sufficiently provided in the past such as ships, aircraft, Earth observation satellites, etc. Most of the current optical transmitters are, however, high power output devices designed for satellites with a mass of hundreds of kilograms. It is difficult to install them on 100 kg-class satellites which make it possible to build the constellations at low cost.
In this R&D project, we will develop optical transceivers mountable to 100 kg-class satellites while enabling inter-satellite and satellite-terrestrial communication with a speed faster than 1Gbps. We will also develop a high-speed RF transmitter in the Ka-band to supplement the optical communication device which cannot communicate with the ground in bad weather conditions.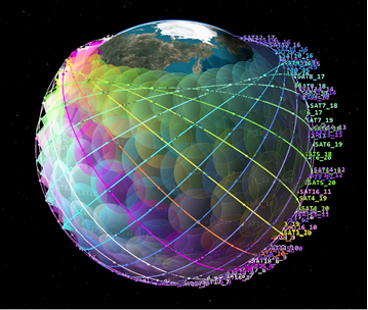 Example of communication satellite constellation
in Low Earth Orbit using the results of this R&D
"Small satellite constellations have been attracting attention worldwide. In particular, 100 kg-class satellites are rapidly becoming popular as a practical tool that can achieve high performance at a low cost, and it is extremely important for Japan to maintain its technological competitiveness in this field," says Yuya Nakamura, President and CEO of Axelspace. "Axelspace will coordinate the entire project by utilizing its experience in the development and operation of 9 small satellites, and will ensure the acquisition of radio-optical hybrid communication technology, a key technology for the next generation, in cooperation with our development partners."
"Japan was the first country in the world to successfully conduct on-orbit experiments in optical communications, but in terms of business applications, we have to admit that foreign countries are still ahead of us. As small satellite constellations become a major trend in the world, it is important to develop low-cost and small optical transceivers and to establish system technologies for satellites suitable for optical communications, assuming that they will be applied to these satellites," says Shinichi Nakasuka, Professor of the University of Tokyo. "The University of Tokyo will contribute to the project in terms of control and simulation technologies, which hopefully will create a foundation for Japan to win both in practical use of optical communications and in its business."
"In next-generation wireless network technologies such as Beyond 5G and 6G, the expansion of non-terrestrial networks (NTN) including satellites is considered important," says Kenichi Okada, Professor of Tokyo Institute of Technology. "Tokyo Institute of Technology will establish hybrid radio/optical wireless communication technology for onboard satellites, using the millimeter-wave band wireless communication technology we have built so far. We will strive to strengthen Japan's industrial competitiveness based on information and communication."
"In this joint R&D project, Kiyohara Optics is mainly in charge of the optical systems. We have know-how in the development of various optical devices over the years including space telescopes and devices of ground stations for optical satellite communications," says Hirohiko Shinonaga, President of Kiyohara Optics. "With our accumulated experiences in such developments, we will do our best in achieving significant results in the project."