AXELSPACE has been preparing for the in-orbit experimental study of the first demonstration satellite for its new AxelLiner service, announced in April 2022. We are pleased to announce that we have decided upon the name of our first demonstration satellite and its launch vehicle.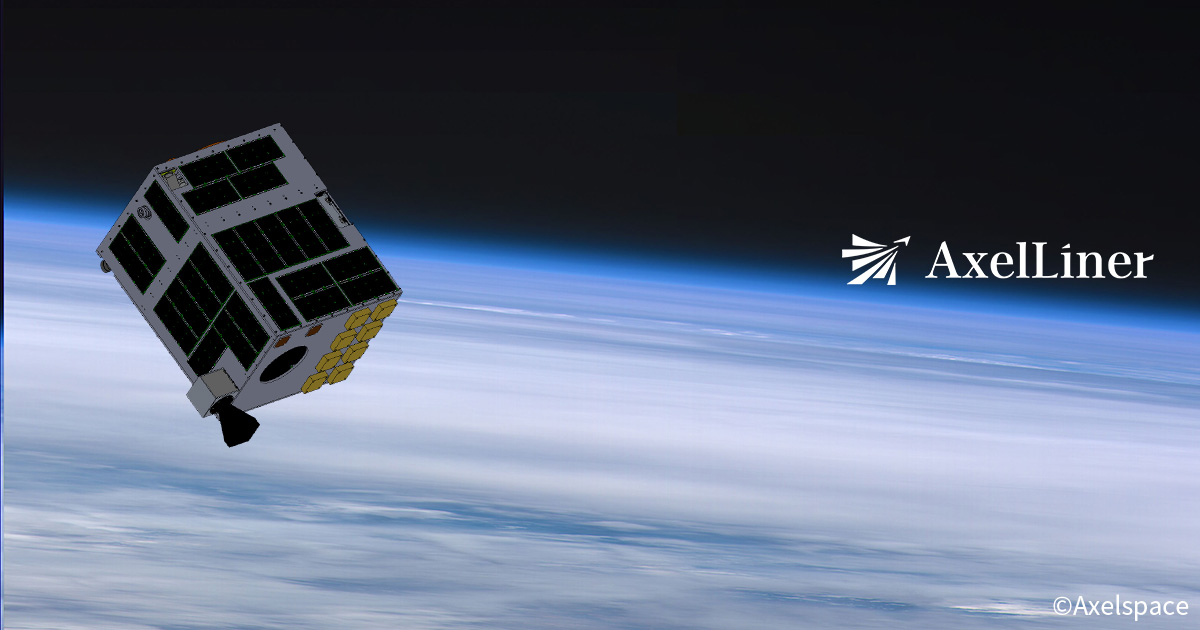 Conventional dedicated satellite projects have presented hurdles, because they require the client to have a certain understanding of the technologies, constraints, mechanisms, and systems related to satellite development and space utilization. AxelLiner packages together the long and complex process involved in satellite projects, providing a one-stop service that allows customers to focus only on the missions they want to conduct in space, such as observation, communications, and experimentation.
The first demonstration satellite, currently under preparation, will perform an in-orbit demonstration of a versatile satellite system. The versatile satellite bus system will enable low cost and minimum time-to-market, serving as an accelerator of our vision: "Space within Your Reach." In addition, AxelLiner Terminal aims to improve the UX from business studies to actual operations, making it easier to develop business using space.
About the First AxelLiner Demonstration Satellite
Details of the first AxelLiner demonstration satellite at this time are as follows.
■ Name of the first demonstration satellite
Pyxis :
The name Pyxis was chosen in the hope that this demonstration satellite will serve as a guide for future space development companies. Pyxis, a reference to the Pyxis star constellation, means "compass," as used in navigation.
*The mission patch will be unveiled when the launch date is announced.
■ Launch Details
Target launch date: First quarter, 2024
Launch Vehicle: SpaceX's Falcon 9
Mission Name: Transporter-10
Launch and Mission Management Services: Spaceflight Inc. and Omniteq
*The final launch date, time, and location will be confirmed closer to the date.
■ About the demonstration
This first demonstration satellite will be used for the development and in-orbit experimental study of versatile satellite systems and automated operation systems, as well as establishment of a satellite manufacturing system by a Spacecraft Manufacturing Alliance. These are the three cornerstones of AxelLiner. For versatile satellite systems, we build software-oriented satellite bus systems that are highly variable and flexible enough to adapt to the changing times. The automated (unattended) operation system will be an evolution of the operation system developed by AxelGlobe to improve UX/UI. The satellite manufacturing system will be undertaken with the Spacecraft Manufacturing Alliance to validate the concept of digital manufacturing in remote factories and to construct a manufacturing environment to enable scalable satellite manufacturing.
Axelspace Corporation
Founded August 8, 2008
Capital: 7,122 million yen (including capital reserve)
Main business activities: Earth observation business using microsatellites, proposal of solutions utilizing microsatellites, design and manufacture of microsatellites and related components, launch arrangements for microsatellites, and operational support and commissioning.
Contact Information for Media
Axelspace Corporation
Corporate Strategy Division, PR Unit Leader
Mayumi Ichikado 
E-mail:pr@axelspace.com