Axelspace Corporation is pleased to announce its collaboration with Sony Group Corporation on joint research for the first AxelLiner demonstration satellite. This joint collaborative work involves the development of a demonstration model for the first demonstration satellite for AxelLiner, currently under development.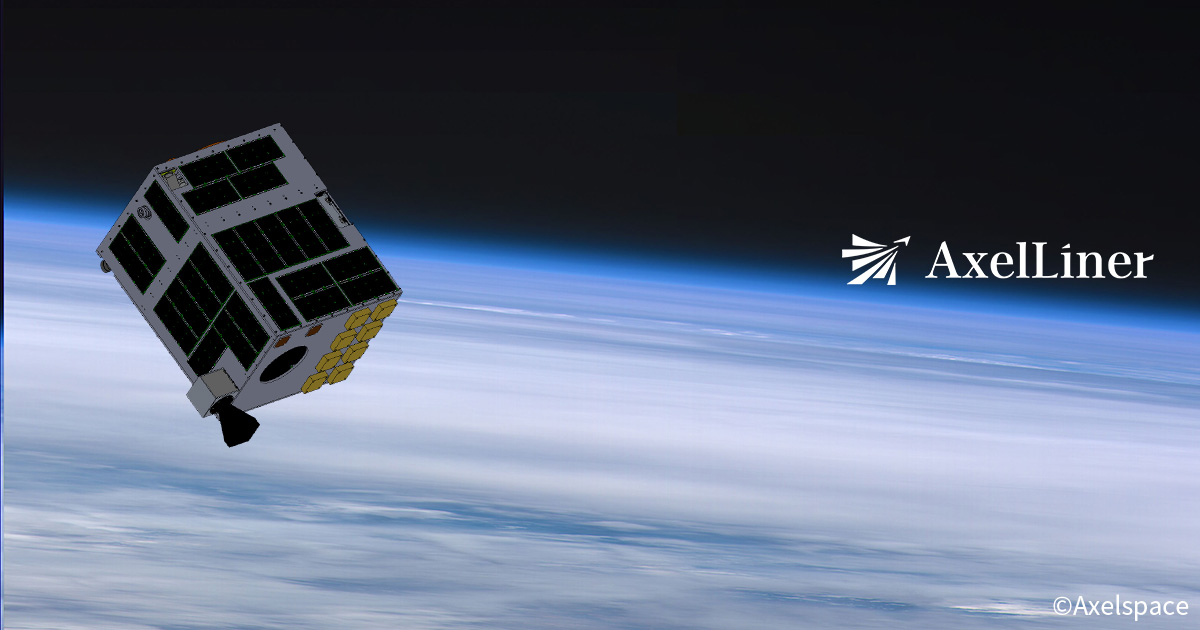 Various missions utilizing satellites have been proposed and realized following the rapid technological advancement of small satellites in recent years. As a basis for providing AxelLiner services, Axelspace has been developing a versatile satellite system that can support these various missions. Regarding payload, it has been decided that the first demonstration satellite will be equipped with a satellite radio experiment system that supports the Low Power Wide Area (LPWA) communication standard for IoT, ELTRES™*. In addition, Axelspace will work with Sony Group Corporation to develop connections to the bus system and the payload. In addition to the on-orbit bus system demonstration, the project also plans to conduct a technical demonstration of the communication system using ELTRES.
*ELTRES™: Sony's proprietary LPWA communication standard that includes a satellite positioning system as standard equipment and has long-distance transmission performance with a line-of-sight of 100 km or more. (https://www.sony-semicon.com/en/eltres/index.html)
About AxelLiner
  AxelLiner will make it convenient to develop space-based business. It aims to achieve low-cost and short delivery times with a versatile satellite system to be demonstrated, and to improve UX from business studies to actual operation with AxelLiner Terminal.
  Conventionally, it has been challenging for businesses outside the space industry to possess satellites. This is due to the challenges involved in fully understanding the technologies, constraints, mechanisms, regulations, and systems related to satellite development and space utilization, in addition to procuring and obtaining licenses from authorities to own and use the satellites.
 With AxelLiner, customers have access to a unified interface called the AxelLiner Terminal, providing a complete suite of tools for navigating and managing the long and complicated processes involved in satellite projects. This allows customers to focus solely on the missions that they aim to perform in space, including observation, communications, and experimentation.
For more information on AxelLiner, please see below.
https://www.axelspace.com/solution/
https://www.axelspace.com/news/press_20220426/
Comments from both companies on this joint research
YUYA NAKAMURA
President and CEO, Axelspace Corporation
AxelLiner redefines our satellite business model, which has been ongoing since the foundation of Axelspace. To ensure that we can meet the ever-increasing needs for microsatellites, Axelspace reviewed at a fundamental level both satellite development and the entire business. We have been developing a demonstration satellite supported by a subsidy from the Ministry of Economy, Trade and Industry (METI), and it is a great honor to have the opportunity to conduct collaborative work with Sony Group's ELTRES receiver on board our demonstration satellite. AxelLiner considers the orbital demonstration of new space components to be one of our most important missions, and this satellite will serve not only as a technology demonstration, but also as a demonstration of our business. We will make the most of this opportunity to continue our steady progress toward the launch of full-scale service for the AxelLiner business.
KAZUYA SUGIMOTO
Project manager of the first demonstration satellite for AxelLiner, Axelspace Corporation
In addition to establishing a versatile satellite system for the first AxelLiner, Axelspace has been also strongly focused on establishing development processes in parallel with the satellite itself, such as the manufacturing process in cooperation with manufacturing alliance companies for mass production and the establishment of an automated operation system. We believe that by loading the mission with the ELTRES receiver of Sony Group onboard the first bus and conducting an orbital demonstration, we will succeed in gaining a lot of experience and achievements in terms of bus versatility and operational UX. We will do our best to make the first bus a rocket start for AxelLiner.
TOSHIYUKI MIYAUCHI
Vice President in charge of Fundamental Technology R&D field, R&D Center, Sony Group Corporation
Sony Group is promoting a research project to build an Earth Platform, which will contribute to the prevention of environmental destruction and natural disasters with the ability to sense everywhere on earth. It will detect unseen signs of anomalies and change, providing feedback to humanity. We believe that this joint work and demonstration represent important initiatives toward the realization of ultra-wide-area communications utilizing low earth orbit satellites, which are essential for transmitting sensing data acquired on the ground on a global scale. We will promote technological development toward the practical application of an unprecedented sensing network on a planetary scale by utilizing the results and knowledge gained through this research and demonstration.
Axelspace Corporation
Location: Tokyo, Japan
President and CEO: YUYA NAKAMURA
Founded August 8, 2008
Capital: 7,122 million yen (including capital reserve)
Main business activities: Earth observation business using microsatellites, proposal of solutions utilizing microsatellites, design and manufacture of microsatellites and related components, launch arrangements for microsatellites, and operational support and commissioning.
URL: https://www.axelspace.com/
AXELLINER
https://www.axelspace.com/solution/
Contact Information for Media
Axelspace Corporation
Corporate Strategy Division, PR Unit Leader
Mayumi Ichikado 
E-mail:pr@axelspace.com